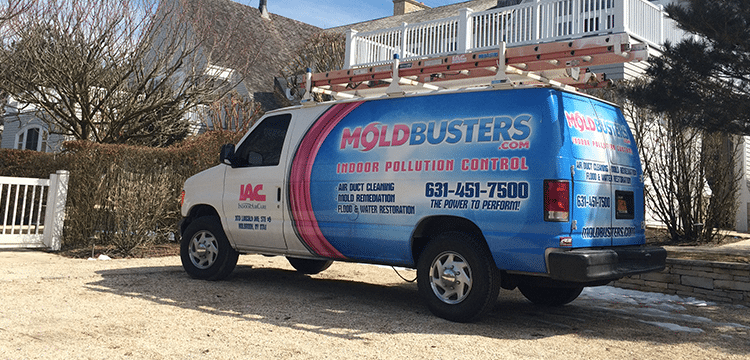 5 Reasons to Choose Moldbusters
Experience
For 30 years, IAC - Moldbusters has perfected the art of investigating, and addressing Indoor Air Quality concerns and issues. IAC-Moldbusters has performed more than 8000 projects and investigations, and of these investigations, 70% have been specific to microbial issues. Our years of experience and expertise makes us leaders in our industry.
Certification
All of our technicians are certified in mold Remediation/Removal and have years of field experience in Air Duct Cleaning/ Mold Removal/Water Damage.
Licensed
IAC-Moldbusters is licensed for Mold Remediation and Air Duct Cleaning.
Hiring a licensed contractor offers many additional protections to the property owner, especially regarding residential property. Licensed contractors MUST possess a minimum amount of experience and pass a business management test to obtain their license. They may also be subjected to a criminal history background check, and must not have any unresolved contracting complaints outstanding, meaning you get another level of security.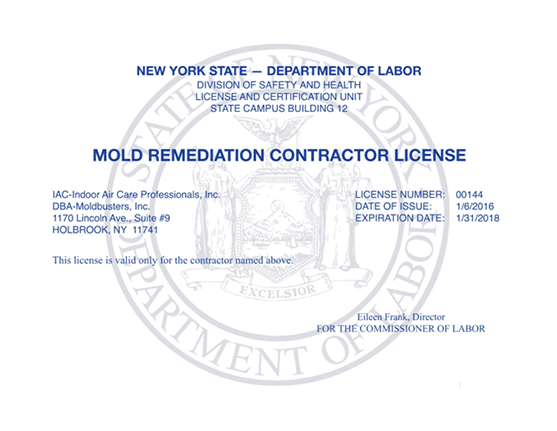 Pollution Insurance
Most companies carry only General Liability which means that the customer is NOT covered for environmental mishaps made by the contractor. IAC-Moldbusters carries Pollution Insurance, ensuring you're covered no matter what happens. Before you hire a mold remediation company, make sure they can produce a Pollution Insurance certificate upon request!
IAC-Moldbusters has never had a claim against us for poor workmanship resulting in negligence.
Certificate of Guarantee of Mold Remediation
We stand behind our work. After completion of remediation, Moldbusters provides a certificate that they have completed mold remediation and we guarantee our workmanship up to one year after service. (See Sample)
Need Mold Removal?
Call 1-866-580-MOLD
or a Location Near You!
Southampton
(631) 283-6262
East Hampton
(631) 283-6262
Need Moldbusters?
Just fill out the information below and we'll get in touch shortly!